CLAIRE G. COLEMAN
Books by Claire G Coleman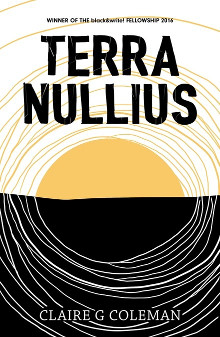 Terra Nullius
'the truth that lies at the heart of this novel is impossible to ignore' - Books+Publishing
Winner of the 2018 Norma K Hemming Award for excellence in the exploration of themes of race, gender, sexuality, class or disability in speculative fiction.
Shortlisted for the 2018 Stella Prize
Shortlisted for Best Science Fiction Novel in the 2017 Aurealis Awards.
Shortlisted for the ABIA Matt Richell Award for New Writers 2018
Winner of the Tin Duck Award for Best Professional Long Written Work.
Longlisted for the 2018 Indie Book Awards
Highly Commended for the Victorian Premiers Literary Awards 2018
Runner Up for the MUD Literary Prize
Released in Australia on 29 August 2017 with Hachette Australia.
Terra Nullius will be seen soon in North America thanks to the the fabulous Small Beer Press! Check back later for more information.
Winner of the 2016 Black and Write Indigenous Writing Fellowship. After a long wait (well it felt like it anyway), Terra Nullius is now in stores with Hachette Australia. If you can't find it ask your local bookseller to order it in. Support your local bookstore, you will miss them if they close.
Available in trade paperback, ebook and audiobook.
More information on Hachette Australia page including ordering here.
Reviews:
Review by Adam David Morton on his blog: The War on Terra Nullius: Novel Reading in 2017.
Review from Dogeared Reads
Review on the Adelaide Review website.
Excellent review of Terra Nullius from Readings Books.
Review of Terra Nullius on Books+Publishing unfortunately subscribers only.
Lisa Hill reviewed Terra Nullius on ANZ LitLovers LitBlog.
Lamont Books reviewed Terra Nullius concluding it is a good book for year 10 students up.
Lovely review from Stefens Books in Perth for their September Top Picks.
Other Histories: Terra Nullius / Claire G Coleman by Dasha Maiorova.