CLAIRE G. COLEMAN
Books by Claire G Coleman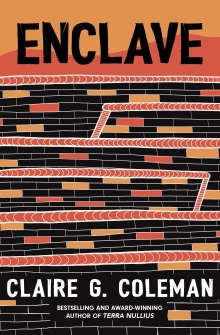 Published in Australia by Hachette Australia.
From the critically acclaimed author of Terra Nullius comes a novel in the tradition of Margaret Atwood and Naomi Alderman that explores a future of surveillance, disruption and segregation that echoes the horrors of a colonial past.
'These are troubling times. The world is a dangerous place,' the voice of the Chairman said. 'I can continue to assure you of this: within the Wall you are perfectly safe.'
Christine could not sleep, she could not wake, she could not think. She stared, half-blind, at the cold screen of her smartphone. She was told the Agency was keeping them safe from the dangers outside, an outside world she would never see.
She never imagined questioning what she was told, what she was allowed to know, what she was permitted to think. She never even thought there were questions to ask.
The enclave was the only world she knew, the world outside was not safe. Staying or leaving was not a choice she had the power to make. But then Christine dared start thinking . . . and from that moment, danger was everywhere.
In our turbulent times, Claire G. Coleman's Enclave is a powerful dystopian allegory that confronts the ugly realities of racism, homophobia, surveillance, greed and privilege and the self-destructive distortions that occur when we ignore our shared humanity.
[MORE]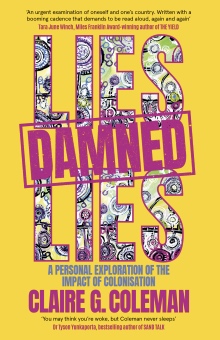 Lies, Damned Lies: A personal investigation into the impacts of colonisation [MORE]
Winner of the Queensland University Award for Non Fiction
Published in Australia by Ultimo Press.
In Lies, Damned Lies acclaimed author Claire G. Coleman, a proud Noongar woman, takes the reader on a journey through the past, present and future of Australia, lensed through her own experience. Beautifully written, this literary work blends the personal with the political, offering readers an insight into the stark reality of the ongoing trauma of the violent colonisation of the Australian continent.
Colonisation in Australia is not over. Colonisation is a process, not an event – and the after-effects will continue as long as there are still people alive who remember it.
Available in paperback, ebook and audiobook. In bookshops and online
[MORE]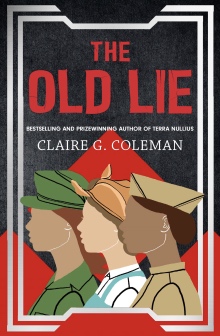 Published in Australia by Hachette Australia.

A thrilling and ambitious new novel from the author of the bestselling and prize-winning TERRA NULLIUS.

Shane Daniels and Romany Zetz have been drawn into a war that is not their own.

Lives will be destroyed, families will be torn apart. Trust will be broken.

When the war is over, some will return to a changed world. Will they discover that glory is a lie?

Claire G. Coleman's new novel takes us to a familiar world to again ask us what we have learned from the past. The Old Lie might not be quite what you expect.

Available in paperback, ebook and audiobook. In bookshops and online.

[MORE]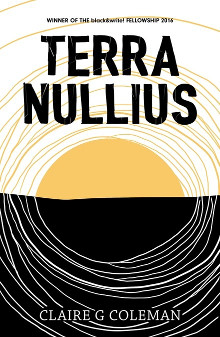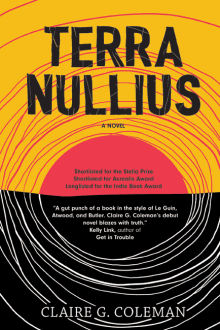 Terra Nullius [MORE]
Out now in Australia with Hachette Australia and in North America with Small Beer Press.
Jacky was running. There was no thought in his head, only an intense drive to run. There was no sense he was getting anywhere, no plan, no destination, no future. All he had was a sense of what was behind, what he was running from. Jacky was running.
The Natives of the Colony are restless. The Settlers are eager to have a nation of peace, and to bring the savages into line. Families are torn apart, reeducation is enforced. This rich land will provide for all.
This is not Australia as we know it. This is not the Australia of our history. This TERRA NULLIUS is something new, but all too familiar.
This is an incredible debut from a striking new Australian Aboriginal voice.
Available in paperback, ebook and audiobook.
MORE
Anthologies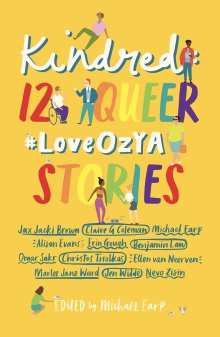 Kindred: 12 Queer #LoveOzYA Stories
Available June 1 with Walker Books
A ground-breaking collection of YA short stories by 12 of Australia's finest writers from the LGBTQIA+ community.
Edited by Michael Earp
What does it mean to be queer? What does it mean to be human? In this powerful #LoveOzYA collection, twelve of Australia's finest writers from the LGBTQIA+ community explore the stories of family, friends, lovers and strangers – the connections that form us. This inclusive and intersectional #OwnVoices anthology for teen readers features work from writers of diverse genders, sexualities and identities, including writers who identify as First Nations, people of colour or disabled. With short stories by bestsellers, award winners and newcomers to young adult fiction including Jax Jacki Brown, Claire G Coleman, Michael Earp, Alison Evans, Erin Gough, Benjamin Law, Omar Sakr, Christos Tsiolkas, Ellen van Neerven, Marlee Jane Ward, Jen Wilde and Nevo Zisin.