CLAIRE G. COLEMAN
Other Stuff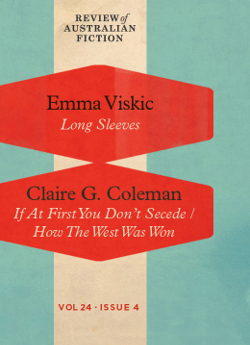 Short Fiction
Noplace in Overland 233.
Hammerhead in Going Down Swinging #39.
Review of Australian Fiction Vol 24 Issue 4 featuring my short story If at First You Don't Secede / How the West Was Won and Long Sleeves by Emma Viskic.
Poetry
#DontMakeMeChoose in Australian Poetry Journal 8.2 "Spoken"
I am the Road: Runner Up in the 2018 Oodgeroo Noonuccal Poetry Prize.
Strawberry Juice and Concrete Beneath My Feet in Australian Poetry Journal7.1 Skin.
Articles and Essays
Boodjar Ngan Djoorla (Country my Bones) in Griffith Review -- Writing the Country.
"This is not about grog. It's about depression, hopelessness and failed government" in The Guardian.
We Will Not Accept Australia Day on January 26 Without Resitance in The Guardian
The Risks of Question Time: Not So Black and White in Westerly.
The Failures of Closing the Gap in The Saturday Paper
All Saturday Paper Pieces, including "portraits".
For IndigenousX in the Guardian: Read our Stories - but Don't Steal them.
An examination on the mistaken belief that Indigenous people were nomadic - When We Encountered the Nomads in the Summer 2017 edition of Meanjin.
No, I Will Not Thank You For Your Invasion. A piece on Invasion Day for IndigenousX.
I wrote this for ABC Radio National (It's Not A Race) Apocalypses are more than the stuff of fiction — First Nations Australians survived one.
Writing on the Road for Writing Queensland Magazine: http://www.writingqueensland.com.au/writing-on-the-road/
Media
Home Truths: Telling Australian Stories. Recoded at Sydney Writers festival, on ABC iView.
Radio National the Hub on Books Great Debate - Write What You Know on ABC Radio National.
I had a great chat with Andrew Pople on Final Draft, 2ser Sydney, you can hear it here.
The second episode of The Meanjin Podcast has me talking to Jonathan Green.
I spoke to Jonathan Green about Australia, the White Invaders and who the real nomads are on Blueprint for Living.
I spoke to Beverley Wang for It's Not a Race Season 2 Episode 2 - For Us Happy Endings Feel Dishonest.
Panel at Melbourne Writers Festival 2017, facilitated by Adelle Walsh, featuring Samantha Shannon, Sami Shah, Garth Nix and Me - Reality and Fantasy (Youtube)
Rhianna Patrick interviewed some authors, including me, at Genrecon for her podcast.
The Wire - Reframing Australia's History of Invasion. My interview with Bonnie Parker.
I was on ABC Brisbane on the 4th of July 2017 talking about my book and what inspired me to write it for NAIDOC week http://www.abc.net.au/radio/brisbane/programs/evenings/evenings/8657932. I am on at about 1 hour and 29 minutes in.
Hear me talk about Aboriginal literature, family history and the frontier wars on Brisbane Murri Radio http://www.989fm.com.au/podcasts/lets-talk/claire-coleman/
I was interviewed by Triple J breakfast, it's somewhere in this podcast: http://www.abc.net.au/triplej/media/s4497391.htm