CLAIRE G. COLEMAN
Other Stuff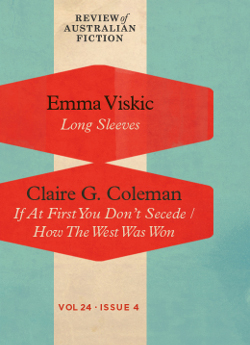 Short Fiction
Noplace in Overland 233.
Hammerhead in Going Down Swinging #39.
"If at First You Don't Secede / How the West Was Won" Review of Australian Fiction Vol 24 Issue 4 with "Long Sleeves"by Emma Viskic.
Poetry
"Forever, Flag" for Red Room Poetry, Poetry Object 2019.
"#DontMakeMeChoose" in Australian Poetry Journal 8.2 "Spoken"
I am the Road: Runner Up in the 2018 Oodgeroo Noonuccal Poetry Prize.
"Strawberry Juice" and "Concrete Beneath My Feet" in Australian Poetry Journal7.1 Skin.
Media
Home Truths: Telling Australian Stories. Recoded at Sydney Writers festival, on ABC iView.
Radio National the Hub on Books Great Debate - Write What You Know on ABC Radio National.
I had a great chat with Andrew Pople on Final Draft 2ser Sydney.
The second episode of The Meanjin Podcast has me talking to Jonathan Green.
I spoke to Jonathan Green about Australia, the White Invaders and who the real nomads are on Blueprint for Living.
I spoke to Beverley Wang for It's Not a Race Season 2 Episode 2 - For Us Happy Endings Feel Dishonest.
Panel at Melbourne Writers Festival 2017, facilitated by Adelle Walsh, featuring Samantha Shannon, Sami Shah, Garth Nix and Me - Reality and Fantasy (Youtube)
Rhianna Patrick interviewed some authors, including me, at Genrecon for her podcast.
The Wire - Reframing Australia's History of Invasion. My interview with Bonnie Parker.
I was on ABC Brisbane on the 4th of July 2017 talking about my book and what inspired me to write it for NAIDOC week http://www.abc.net.au/radio/brisbane/programs/evenings/evenings/8657932. I am on at about 1 hour and 29 minutes in.
Hear me talk about Aboriginal literature, family history and the frontier wars on Brisbane Murri Radio http://www.989fm.com.au/podcasts/lets-talk/claire-coleman/
I was interviewed by Triple J breakfast, it's somewhere in this podcast: http://www.abc.net.au/triplej/media/s4497391.htm